Rolling Thunder®, Inc. Indiana
Veterans Fund & POW/MIA License Plate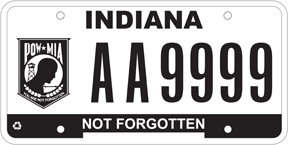 THE FUND | THE PLATE
Prior to January 2015, funds generated from the sale of the POW/MIA Awareness Plate went toward the Indiana Military Family Relief Fund (MFRF). This period saw 12,456 plates sold which equated to $311,400 being added to the MFRF.
In 2015, 3,866 license plates were sold, resulting in $96,650 being deposited into the RTIVF.
In 2016, 4005 POW/MIA plates were sold, resulting in $100,125 being deposited into the RTIVF.
Since January 2017, 1,488 plates have been sold for a total of $37,200 deposited into the RTIVF.
From January 2017 to May 9th, 2017, $31,224.26 has gone toward assisting our Indiana Veterans.
---
RTIVF is open to all honorably discharged Veterans, effective July 1, 2015. Financial assistance may be used by the veteran/family for needs such as housing, utilities, medical services, transportation, and other essential family support expenses which have become difficult to manage. Assistance may be requested once per running year, with a maximum of up to $2,500.00 may be approved. (exclusions, auto loans, cable, satellite, cell, internet services, all insurance, dental care, credit cards, child support, attorneys, debt collectors, storage fees, and funeral expenses, some others may apply) Assistance will be considered by the RTIVF State Committee, and the applicant will be notified of their decision.
There may be an emergency waiver granted in some cases, only upon written request indicating the circumstances justifying such a waiver.
Assistance will also be considered by the RTIVF State Committee for Group Housing, Veterans Homeless Shelters etc.
Requirements:
The applicant must have received an "Honorable Discharge". (DD 214, DD 256, NGB-22)
The applicant must have served a minimum of 30 continuous days of active duty.
The applicant must currently be a permanent resident of Indiana for a minimum of two (2) consecutive years.
The applicant must sign & date their application, provide all required proofs, and documentation requested.
Documentation of need is required to apply for the needed assistance.
Disbursement:
All disbursements will be made directly to the vender, and not to the applicant.
Completed Forms:
Forms must be Typed or Printed (hand written forms will not be considered).
Mail completed forms to:
(Please allow a minimum of 10 working days from the date which application - and all associated forms - are received for it to be reviewed. Total process time may be up to 15 working days). Please note that emailed copies of the application will NOT be accepted.
Rolling Thunder® In. Chapter One
PO Box 26458
Indianapolis, In. 46226
Email:RTIVF@ATT.NET

Rolling Thunder® In. Chapter Two
PO Box 781
Granger, In. 46539

Rolling Thunder® In. Chapter Six
1738 Glenmoor Rd.
Evansville, In, 47715
Email: RTIVFIN6@GMAIL.COM

Rolling Thunder® Chapter Seven
7065 Little Tar Springs Rd.
Hawesville, Ky. 42348
For more information, please contact Dick Harrington via email at dharr312@hotmail.com or call 317-991-3085.
---
Effective January 1, 2015, when you purchase a Prisoner of War - Missing in Action plate from an Indiana BMV branch, all funds will be going into the Rolling Thunder®, Inc. Indiana Veterans Fund (RTIVF, above). 100% of the funds go to helping our Hoosier Veterans. The qualifications are currently being considered and will be forth coming in 2015.
URGENT NOTICE: The 2015 auto license plate season is rapidly approaching. For those of you that currently have a "Low Digit" (1-100) plate number, and wish to keep it, or change your number, or if you do not have a low digit at this time, and would like to get one for the new plate cycle, you will need to send Dick Harrington a self-addressed stamped envelope along with your full name, address, phone #, and email. Also he will need to know whether the plate will be going on a car/truck or motorcycle.
When Dick has the information, he will send you the completed "Plate Assignment" form that will allow you to receive the low digit. PLEASE if you wish to get a low digit, do not wait until your plates are due, as we will not have time to get the process complete, or the number may not be available. We can no longer do this over the phone. There is an additional one time $30 charge (BMV admin. fee) above the regular license fees.
POCs: President Mike Clark and Chairman of the Board Dick Harrington
REMINDER: When at the BMV, be sure to clarify that you want the POW/MIA Awareness Plate,
NOT the Ex-POW plate. They are NOT the same plate.
---
POW/MIA Awareness Plate Facts & History

The POW/MIA specialty plate started as an idea of former Rolling Thunder®, Inc Indiana Chapter 1 President, Jon Brinkley. Brinkley wanted to find a way to raise awareness for those left behind in all wars and conflicts, and at the same time raise funds for struggling military families. The dream came to pass in May 2009 when the plate was first announced at the North Side Harley-Davidson store on 96th street with Mayor Greg Ballard, State Senators Tom Wyss and Jim Merritt, Commissioner of the Indiana Bureau of Motor Vehicles, Andy Miller, and Tom Applegate, Director of the Indiana Office of Veterans Affairs in attendance. Rolling Thunder®, Inc.'s application was one of many received and reviewed. The plate was accepted, in part, due to an uncommon level of distinction that sets the organization and its purpose for the plate apart from others.
There are several military specialty plates, but this one is different in several ways. There is no application process to purchase a license plate; it is available to anyone with a valid registration, and it directly offers support to veterans in need.
The cost of the POW/MIA license plate includes vehicle registration fees and taxes, a group fee of $25, and a Indiana Bureau of Motor Vehicles administrative fee of $15. The $25 group fee will go towards the RTIVF.
Plates are available for cars, trucks (up to 11,000 lbs), and motorcycles. RV Motor Homes as well as RV pull trailers may also be plated with the POW/MIA plate. Requests can be made for a special numbered POW/MIA plate.
Commissioner of the Indiana Bureau of Motor Vehicles, Andy Miller, summed up the purpose and motivation behind this plate saying,
"As motorists everywhere see this Indiana license plate,
I sincerely hope that they will remember these heroes."